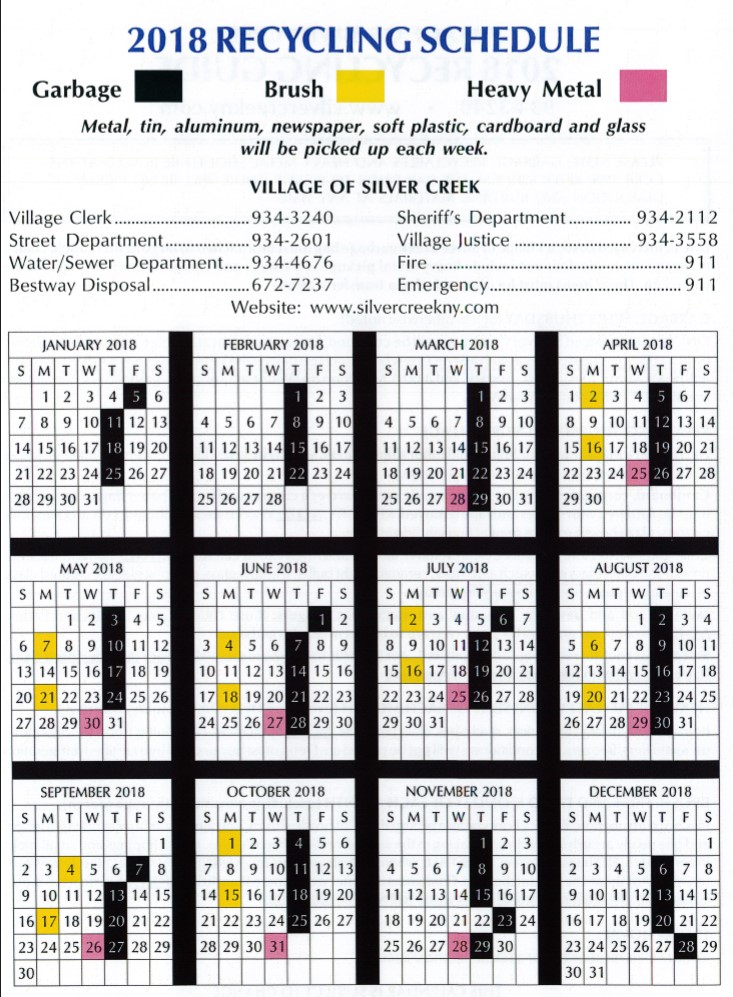 Trash & Recycling
Garbage, Recyclables and Heavy Metal should be placed at the curb side AFTER 6:00 pm the day prior to pick-up.
**Brush is picked up the first and third Monday of each month (excluding November through March).
◊◊Bags can be purchased at the Village Clerk's Office, Tops Markets, and Save-a-lot for $1.25 a bag. (only Silver Creek locations) 
This is the current 2017 Village Of Silver Creek recycling guide, click the link to view a larger  version:  ⇒ ⇒ ⇒ ⇒ ⇒
GARBAGE must be placed INSIDE Silver Creek bags or the contracted company will not pick it up. Heavy items that are likely to tear the bags, should be placed in a garbage can lined with a Silver Creek bag. Garbage will not be picked up if a bag is simply tied to the can.  Large items such as a chair, couch, mattress, etc. must have a Silver Creek bag attached and can be placed out with the regular garbage on Wednesday evening. 
*Please note* Large electronic items WILL NOT be picked up curbside,
EVEN IF THEY HAVE Silver Creek bag tied to item. (ex. Computers,Monitors,Televisions..etc) These items can be taken to a transfer station.  
Copies of the 2018 schedule are available now for pickup in the Village Clerks office: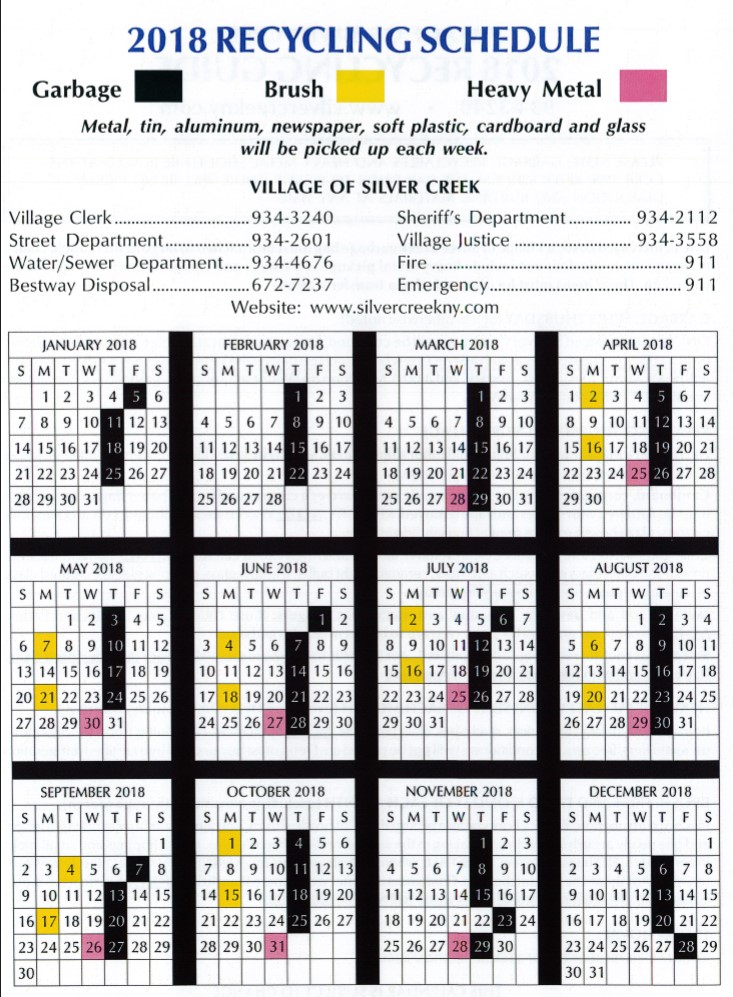 Acceptable/Recyclable material list for Village or visit http://www.buffalorecycling.com/index.php for more information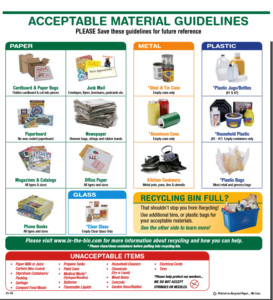 RECYCLING 
All items for recycling should be placed out on Wednesday evening, in addition to your garbage, in separate containers and follow the guidelines below. 
No specially labeled containers are required for recyclables. 
Newspaper, magazines, catalogues and other shiny papers (such as inserts): KEEP DRY in a covered container, loose.  Do not place in plastic or paper bags, to allow for ease of dumping from the container.

Corrugated (only) cardboard, egg cartons and brown paper bags: KEEP DRY in a covered container, flatten and remove any tape or staples. 
NOTE: Wax coated cardboard, cereal boxes, milk cartons, pizza boxes are regular household garbage and will not be accepted for recycling.
Clear glass bottles and jars: Rinse clean and remove all caps and rings.  Labels can be left on.
NOTE: Items that are not clean, mirrors, ceramics, lightbulbs, window glass, drinking glasses, colored glass are regular household garbage and will not be accepted for recycling.
Soft Plastic: Look for recycling code numbers 1, 2, or 5.  Plastic milk jugs are recyclable.  Rinse clean, remove caps & rings and flatten. 

Metal: Metal hangers, food and beverage cans, only.  Rinse cans clean, remove ends and flatten.
NOTE: Aerosol cans and EMPTY paint cans are regular household garbage and will not be accepted for recycling.
All complaints about garbage pick-up issues should be directed to Bestway Disposal at 672-7237. 

For a list of transfer stations and rates http://chautauqua.ny.us/346/Transfer-Stations-Rates